Lots of Green Is at Stake in This San Francisco Spat - Wall Street Journal, May 28, 2011

May 28, 2011
Oracle's Larry Ellison Views Less of the Bay, So He Hires a Tree Attorney
by JIM CARLTON
View a printer-friendly version of this page
SAN FRANCISCO—Oracle Corp. Chief Executive Larry Ellison paid $3.9 million in 1988 for a home in this city's posh Pacific Heights neighborhood with sweeping vistas of San Francisco Bay. Now his view isn't quite as sweeping —and that's turning into something of a scene.
Mr. Ellison's neighbors, Bernard and Jane Von Bothmer, purchased a $6.9 million home down the hill from the software mogul's place in 2004. In the ensuing years, the Von Bothmers let the trees in their expansive backyard grow. Three redwoods and an 80-year-old acacia have since risen by several feet.
Mr. Ellison, 66 years old, is displeased by the taller greenery—very much so.
In a trial set to begin June 6, the billionaire plans to take the Von Bothmers to state Superior Court in San Francisco over how the trees have obstructed his floor-to-ceiling window views of San Francisco Bay. The court date follows a lawsuit Mr. Ellison filed last June alleging he will suffer "irreparable injury" from lost property value if the court doesn't make the Von Bothmers cut their trees in order to "restore Plaintiff's views and sunlight."
The situation has become a full-blown spectacle. Mr. Ellison hired an attorney who specializes in "tree and neighbor law" to duke it out with the Von Bothmers. In a deposition, Mrs. Von Bothmer alleges she once caught workers hired by the Silicon Valley tycoon strapped into her redwoods, prepared to cut the trees without permission—a charge Mr. Ellison has said he doesn't believe is true.
Amid the dispute, Mr. Ellison once offered the Von Bothmers as much as $15 million to sell their property to him, an offer the couple rejected, according to attorneys for both sides.
The root of the problem: Mr. Ellison "wants a pristine view, and they want their privacy," says Marie Hurabiell, an attorney for the Von Bothmers.
Mr. Ellison would only speak through his tree attorney, Barri Bonapart, who says the CEO wants his views restored to what he has enjoyed since buying the five-bedroom, 10,742-square-foot residence more than 20 years ago.
The Von Bothmer's green canopy has grown to block a swath of Mr. Ellison's view from the third-level living room of his four-level home, Ms. Bonapart says. She adds that the Oracle chief uses the contemporary-style abode—one of his six residential properties—for entertaining and plans to spend more time there during the 2013 America's Cup yachting race that he is bringing to San Francisco.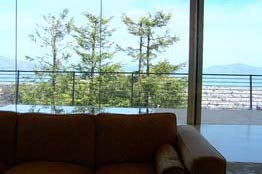 Mr. Ellison isn't the first celebrity to get into a row over greenery. Home decorating mogul Martha Stewart famously scrapped with one neighbor over shrubbery he grew between their homes in East
Hampton in 1995.
In San Francisco, tree disputes often break out because the city is both hilly and wooded, resulting in blocked views for some. In 1988, the city passed a "Tree Dispute Resolution Ordinance" requiring a complainant to seek "initial reconciliation" with the tree owner, file a "tree claim" if that doesn't work and, if necessary, submit the dispute to "binding arbitration." If all else fails, the dispute can go to court.
According to Ms. Bonapart, the previous owners of the Von Bothmer home, David and Jan Sargent, agreed to Mr. Ellison's request to keep the tallest trees on the property trimmed so as not to obstruct his views.
Mr. Sargent,a real-estate developer from Sausalito, Calif., says they made no such agreement.
When Mr. Sargent's home went on the market in 2004, Mrs. Von Bothmer fell in love with its backyard of about 40 trees and shrubs. Mr. Von Bothmer, 44, a college history professor and son of the late Dietrich Von Bothmer, who was curator of New York's Metropolitan Museum of Art, also liked the home's central location.
Over the next few years, the Von Bothmers discovered severed branches and other signs that their four tallest trees, including an approximately 80-year-old acacia, were being "topped," or cut indiscriminately without permission, says Garth Drozin, another attorney for the Von Bothmers.
On June 2, 2006, Mrs. Von Bothmer and a handyman caught three workers in her redwoods preparing to cut tree limbs, according to Mrs. Von Bothmer's testimony in her deposition. Believing they worked for Mr. Ellison, she confronted a manager at his home, Mr. Drozin says.
"There was an apology and a promise this wouldn't happen anymore," Mr. Drozin says.
In a 207-page deposition transcript from testimony given on April 8, Mr. Ellison said he never asked anyone to cut the trees. He added "there was no chance" one of his workers would have done so "because I would fire them instantly," according to the deposition. "You know, I don't do things like that. I'm a public figure."
Mr. Ellison added that he didn't believe trespassing had occurred, though he said "on one occasion" a worker stood on the retaining wall of his property to cut a limb from a Von Bothmer tree "that was coming over onto our property, and he was strapped in the tree." In the deposition, Mr. Ellison said the "Von Bothmers complained and we stopped instantly, though we think we have the full right."
From 2008 to 2009, Mr. Ellison exhausted tree-dispute protocols before filing suit, Ms. Bonapart says. Mrs. Von Bothmer, meanwhile, fired back this year by seeking to get her acacia—a non-native species to California—protected as a "Landmark Tree" by the city of San Francisco. That request is pending.
With the June 6 trial looming, both sides have met in settlement talks, though there hasn't been a resolution. Mr. Ellison has resolved a tree issue with another neighbor, though. In that instance—at Mr. Ellison's principal residence in Woodside, Calif.—a neighbor complained after he planted some redwoods near their property lines.
"She said those trees would eventually grow and block her view," Mr. Ellison said in his deposition. "So we removed the trees."